2020 NCERA-101 Annual Meeting
March 15-18, 2020
NCERA 101 Annual / International Meeting
Marriott University Park Hotel
Tucson, Arizona, USA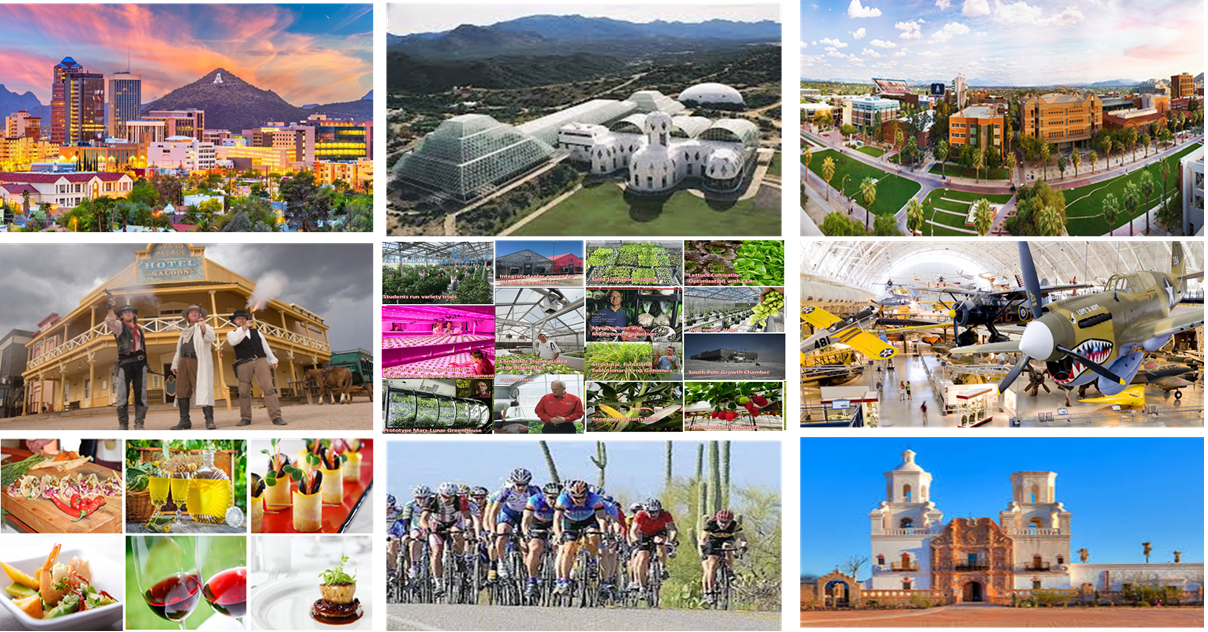 The University of Arizona Controlled Environment Agriculture Center is pleased to invite you to attend the 2020 International Meeting of the NCERA 101 Committee on Controlled Environment Technology & Use, as well as join The Controlled Environment Agriculture Center in commemorating 20 successful and productive years as we celebrate the Center's 20th Anniversary. The conference is being held during March 15-18th, 2020, at the Marriott University Park Hotel located on The University of Arizona main campus, Tucson, Arizona. Tucson is home to The University of Arizona and is UNESCO's designated world city of gastronomy, making it the first city in the United States of America to be honored with the Capital of Gastronomy Designation.
EVENT REGISTRATION
Please visit HERE to register for the meeting and access to the draft meeting program.
If you are coming with a spouse/partner (non-delegate) you may choose to include them in our Gala Dinner & Technical Tour day activities. Simply purchase Guest Gala Dinner and Technical Tour tickets for them to join these activities. Conference registration is separate from hotel booking (see link below for hotel booking). Registrations end February 15th, 2020.
Technical program information will be updated soon. If you are an industry member and are interested in sponsorship opportunities please contact Murat Kacira (mkacira@email.arizona.edu).
AGENDA
Click HERE for the Meeting Agenda
ACCOMMODATIONS
We have reserved a block of rooms for NCERA 101 meeting attendees at the Marriott University Park Hotel. The room rate is $179 per night for a room with either 2 Double Beds or one King Bed. Please follow the link below to reserve rooms at the conference rate. The block of rooms will be available until early March.
Click HERE for the Hotel booking with group rates.
Getting to Tucson: Flights to Tucson (TUS).
Ground Transportation: Information regarding ground transportation from TUS can be found at: https://www.flytucson.com/transportation/
WEDNESDAY TOUR DAY (March 18th):
We will visit a commercial greenhouse facility and the Controlled Environment Agriculture Center facilities in the morning and visit another commercial greenhouse in the afternoon.
STUDENT PARTICIPANTS
Student Poster and Presentation Session is planned. Contact Brian Krug at brian.krug@corteva.com  regarding graduate student assistance.
INDUSTRY MEMBERS and PARTICIPATION
If you are an industry member or participant and interested in sponsorship opportunities please contact Murat Kacira at mkacira@email.arizona.edu.  An Industry display area will be included.
We are looking forward to hosting you!
Murat Kacira, Gene Giacomelli, Joel Cuello
Local Organizing Committee
Controlled Environment Agriculture Center
The University of Arizona